Tom Hardy is best known for his acting roles in several high-profile films, such as Eddie Brock in Venom and Tommy in the MMA film Warrior, to name a few. However, did you know that despite his hectic schedule, Tom makes time to train Brazilian jiu-jitsu?
This article discusses interesting jiu-jitsu martial art facts that you may not be aware of. I'll talk about Tom's BJJ beginnings, competition results, lifestyle, and other exciting topics.
Tom Hardy Won the Gold in Milton Keynes Brazilian Jiu-Jitsu Open 2022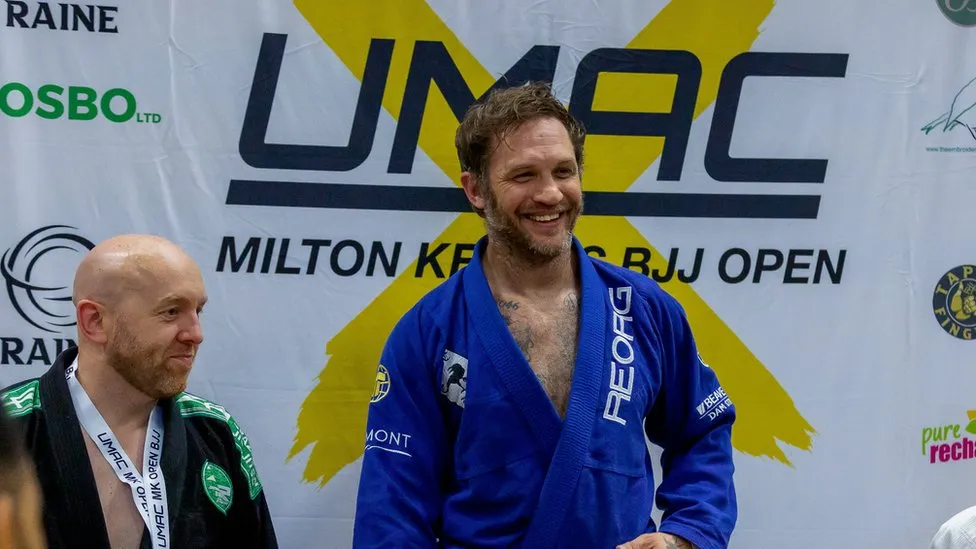 Most people were surprised to see Tom Hardy, the Hollywood star, compete again in a BJJ tournament. On the weekend of the 17th and 18th of September, Tom Hardy showed up competing in Milton Keynes Brazilian Jiu-Jitsu Open 2022.
And again, he performed well by winning all his fights toward getting the gold medal in his weight division.
Tom Hardy Won Double Gold in the Wolverhampton BJJ Open 2022
Tom Hardy was spotted competing in the REORG 2022 Jiu-Jitsu Championship on the weekend of August 21, 2022. The four-stripe blue belt has confronted in gi and no-gi fights, earning gold in both.
Despite his hectic schedule, I'm glad Tom Hardy is training and competing in Brazilian jiu-jitsu.
Otherwise, the 45-year-old actor leaves a positive influence on the grappling world. This is due to his ability to perform fantastic grappling moves such as armbars, triangle chokes, submission escapes, etc.
Congratulations, Tom Hardy! You deserve the two gold medals.
Hardy Began Training Brazilian Jiu-Jitsu in 2011
Tom Hardy (born September 15, 1977, in London, England) is an English actor well-known in the entertainment industry. His striking good looks, distinctive personality, and cerebral performances in cult films and mainstream blockbusters have made him a household name.
A number of his films have been released, including Mad Max: Fury Road (2015), Inception (2010), Dunkirk (2017), Legend (2015), Venom (2015), etc.
Otherwise, Tom hardy is one of many celebrities who do Brazilian jiu-jitsu, including Keanu Reeves, Ashton Kutcher, and Demi Lovato, to name a few. So I'm curious about when Tom Hardy first began doing BJJ.
Tom Hardy began practicing Brazilian jiu-jitsu in 2011 under REORG Jiu-Jitsu Foundation. He was training while preparing for his role as Warrior in the popular film Warrior.
Source: Slick john
According to Metro UK, Hardy also trained in mixed martial arts, boxing, and jiu-jitsu with professional MMA fighters Nathan Jones and Dan 'Villi' Edwards.
As part of his preparation for his role in the Venom film, he put himself through an intense MMA workout. As a result of this fighting training, Tom has undergone extreme physical transformations.
Source: Crazy Youngster
Tom Hardy Is a Blue Belt in BJJ
In 2011, Tom Hardy began training in Brazilian Jiu-Jitsu as part of his preparation for his role as an MMA fighter in the film Warrior, in which he appeared. Since then, we've seen Tom practicing grappling on a sporadic basis.
On the other hand, Tom is one of the celebrities who devotes a significant amount of time and energy to martial arts training. Of course, they have a good time in such an energetic and challenging environment. So, I'm curious, what BJJ belt does Tom Hardy have?
In December 2021, Tom Hardy was promoted to the blue belt rank by nearly ten years after he first began training in BJJ grappling.
In Brazilian jiu-jitsu, the blue belt is the second adult rank after the white belt. Students at this level acquire a broad range of technical knowledge while putting in hundreds of hours on the mat. This fact aids blue belt BJJ practitioners in executing these moves correctly.
Tom Hardy Promotes Royal Marines Jiu Jitsu
Tom Hardy is one of many well-known celebrities spotted lifting weights during their free time. However, he has been training BJJ with the Royal Marines for quite some time is not a secret.
Aside from that, he has been an ambassador of their jiu-jitsu charity organization, REORG, for a significant amount of time.
The REORG Jiu-Jitsu Foundation is a charitable organization that serves the Royal Marines. It is a non-profit organization that helps veterans from all over the UK who want to learn BJJ.
Thus, by teaching jiu-jitsu to combat veterans, REORG hopes to aid their physical and mental healing.
Source: Mark Ormrod
Learning Jiu-Jitsu provides an excellent opportunity to improve one's physical and mental health and fitness. That is precisely the rationale behind establishing the REORG Foundation, which was established in 2017.
Besides that, Tatami Fightwear supports the foundation by creating unique apparel and spreading the message globally.
This is in line with Tatami Fightwear's REORG mission. That is custom BJJ gear and leisurewear. These brands also represent the organization's mission and have a strong and unique connection.
Source: Mark Ormrod
This project, carried out by REORG, demonstrates the strength of the BJJ community and the sport's continued growth. We're excited to see where this organization goes and how many people can benefit from the organization's ongoing efforts.
With high-profile support from celebrities such as Tom Hardy and Ant Middleton. The rise of REORG has been incredible.
In addition, the organization's success is a testament to the dedication of those working behind the scenes. It is a cause that everyone should get involved with.
Conclusion 
Tom Hardy trained in Brazilian jiu-jitsu for the first time in 2011 while preparing for his role as Warrior in the popular film Warrior. He is one of many Royal Marines veterans who train in the art of grappling under the REORG Jiu Jitsu Foundation.
In December 2021, Tom Hardy got a jiu-jitsu blue belt nearly ten years after training. Aside from that, Hardy also trains in mixed martial arts and boxing.
So, Tom Hardy is among many celebrities who train in BJJ and has made it a way of life.
I hope you enjoy reading this article, in which I discuss Tom Hardy's tenacious BJJ MMA training and lifestyle.
If so, don't forget to share it on your preferred social media platforms.
---
Related Article: Learn more about Keanu Reeves Martial Arts, click here.
---
Frequently Asked Questions
Why Would A Celebrity Enroll In BJJ Training In The First Place?
Celebrities who train in Brazilian jiu-jitsu are now recognized, appreciated, and respected. Their belts, whether white belt or black belt, will draw some attention. Besides that, Brazilian jiu-jitsu has many benefits that will improve their lives.
Brazilian Jiu-Jitsu may be your best option if you want to make a positive difference in your life. Besides, it has evolved from a traditional martial arts sport in the United States to something much more than that in the country alone. For many people, BJJ has evolved into a way of life.
It is possible to achieve positive changes in your physical, mental, and spiritual well-being by learning the art of jiu-jitsu, which can be achieved through training.