Brazilian jiu-jitsu is one of the best martial arts for kids due to its tremendous benefits. Moreover, BJJ children are going to be more productive, confident, less violent, respectful, and build some amazing self-defense skills. Indeed, children love the atmosphere during jujitsu martial arts class, always much fun. Otherwise, BJJ Kids truly love the belt's progression and stripes, which are different from those of adults. So, what is the kids BJJ belts system?
During this article, you will discover the Brazilian jiu-jitsu kid's belts system and progression. Stay tuned!
Source: OptimusJiuJitsu
 

Children's BJJ belt system
Children's jiu-jitsu -from four to fifteen years old- can receive colored belts that reward their effort within the BJJ self-defense mats. The kids' belts are earned when the toddler starts training as a white belt. But before earning a blue belt which may only be awarded to people 16 years or older.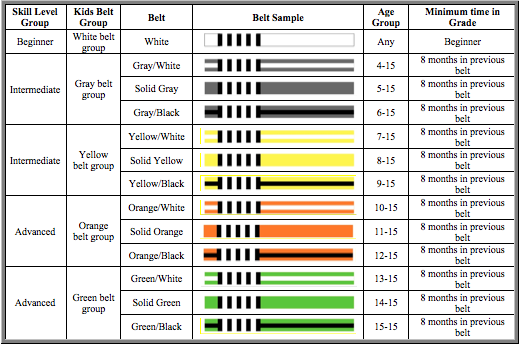 Stripes And Kids BJJ Belts System

There are several stripes earned by kids during their learning of BJJ martial arts. Besides, toddler jiu-jitsu practitioner is getting four white stripes, 4 red ones, and three black ones before moving from white belt kid to move to the next belt rank. 
The belts do make Brazilian Jiu-Jitsu a more interesting sports discipline for adults and also for children martial artists. Indeed, they mean a lot to them, so they're getting to be the happiest people alive when they earned their next belt.
Moreover, the BJJ belt promotion may be a life-changing event for a plethora of kids. So, belts in jiu-jitsu represent far more than a rank for these children who learn some precious lessons uniquely.
You may like these BJJ articles